Tomo
Regular price
Sale price
$59.95
Unit price
per
Sale
Sold out
Tomo
Regular price
Sale price
$59.95
Unit price
per
Sale
Sold out
Product Description

Drawing its name from the Japanese word meaning "friend" or "companion" (友), the MiiR Tomo moves with you through the world at the pace of together. An insulated capsule with roll-stop handle is built to store, tote and retain any temperature of beverage until it's ready to be poured into two twist-off sipping mugs. Or, skip the pouring and sip directly from any angle with the inner Leakproof 360 Lid.


Accommodates 1L or 33oz of your favorite beverage. 

Winner of the European Product Design Award and the International Design Excellence Award.

Care

Wash before first use. Hand wash recommended with a small brush to clean under center button. Lid top rack dishwasher safe. Do not disassemble lid, do not freeze, do not microwave, do not bleach.

CAUTION: When open, liquid can be poured from anywhere around the rim. Use caution with hot liquids and always close lid when not in use.  Not for use with carbonated beverages. Choking hazard, may contain small parts not suitable for children under 3 years.
Shipping & Returns

Do I have to pay for shipping?

MiiR offers free standard ground shipping within the contiguous United States for orders $75 and over. Standard ground orders under $75 are subject to a flat rate shipping fee of $9.95 USD. Expedited and international rates, if applicable, will be calculated in the checkout once you have entered your shipping address.  A shipping charge will be applied to your final order in all other scenarios.

When will my order ship?

We do our best to ship your order within 1-2 business day of purchase, M-F. Exceptions may occur if there is a question regarding your order, in which case we will contact you directly.  If you have questions about your order, please contact at hello@miir.com.

MiiR uses FedEx on all shipments within the contiguous United States unless an expedited option is selected by the customer.

2-Day and Overnight orders should be placed by 11:00 AM PST for quickest delivery. Expedited orders placed after 11:00 AM PST will require an additional business day for processing. This excludes weekends and holidays. All "Delivery by" dates are estimates and not guaranteed. 

Shipping to Hawaii 

All orders shipping to Hawaii will ship FedEx Ground unless the customer selects an expedited service. Air freight to Hawaii has become very limited and as a result orders shipping to Hawaii may take an additional 5 weeks when traveling by boat.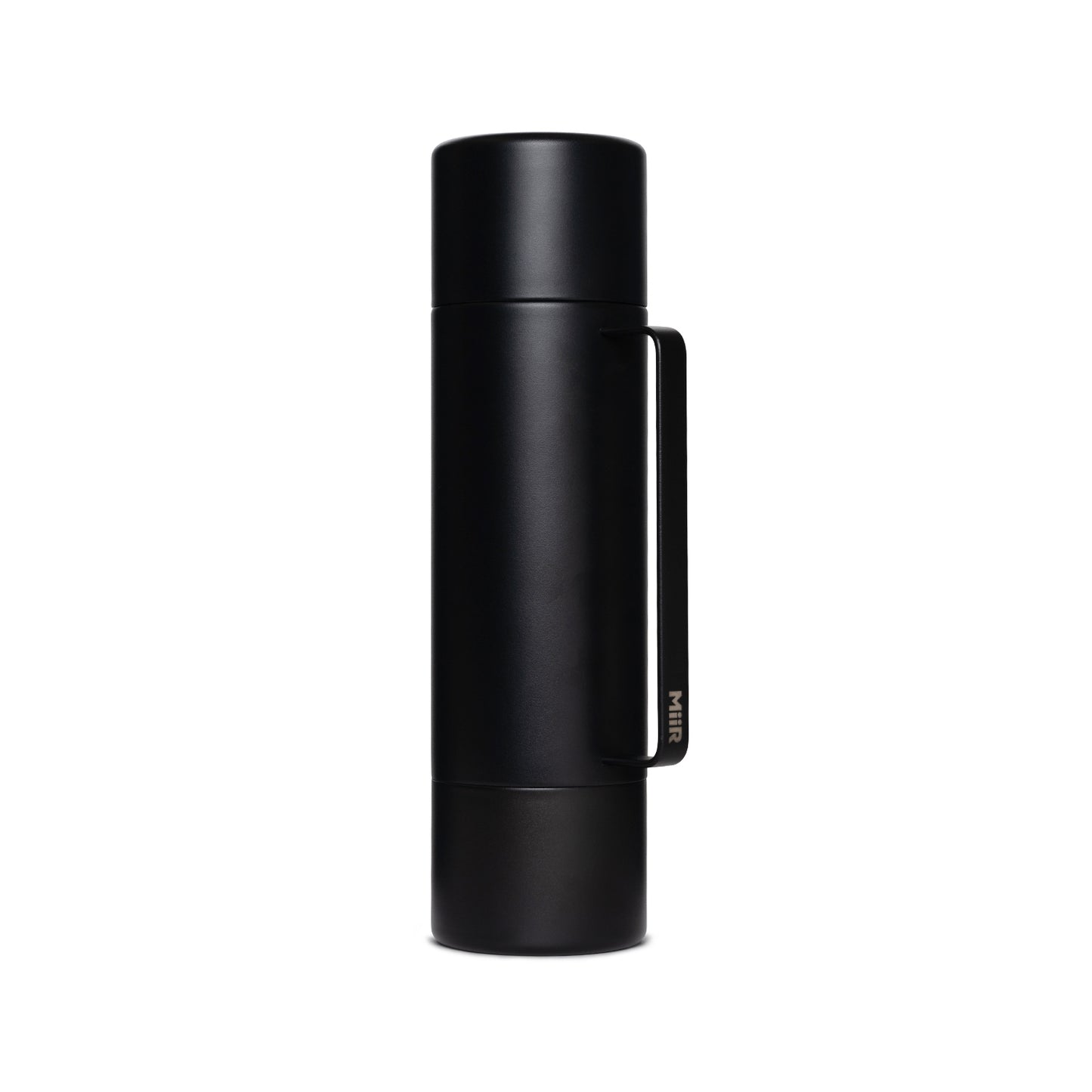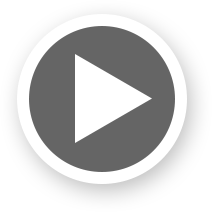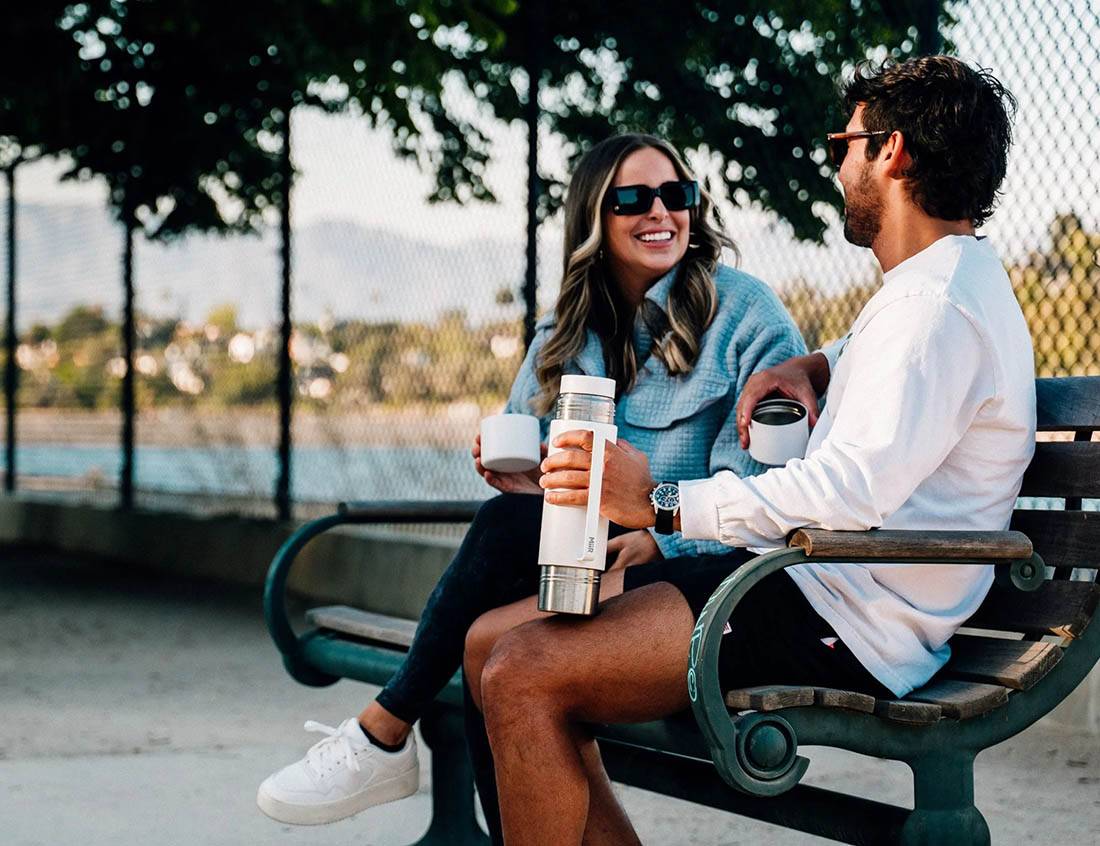 Made for Sharing
Two 8oz twist-off double-wall insulated sipping mugs for life's shared adventures.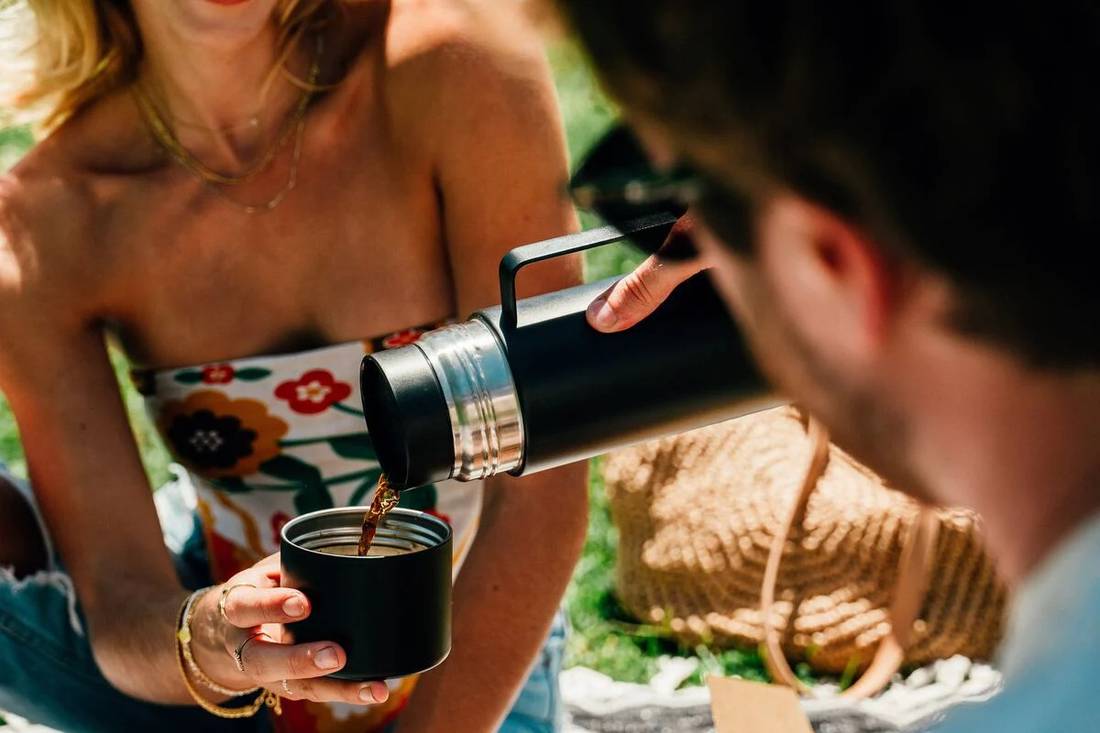 Leakproof 360 Lid
Pour from any side. Push down on lid to open and again to close. A subtle indicator line clearly shows its open/close position.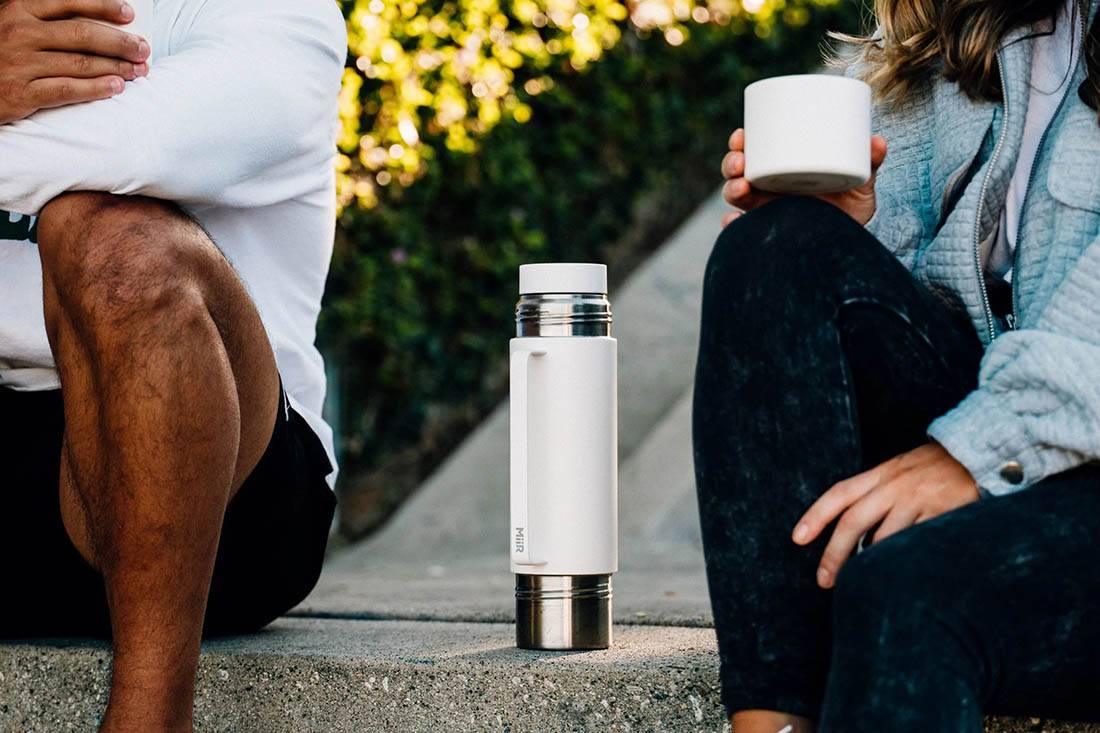 Keeps Drinks Cold or Hot Longer
Our Thermo 3D® Double wall vacuum-insulation keeps hot drinks hot and cold drinks cold. Ice cube compatible.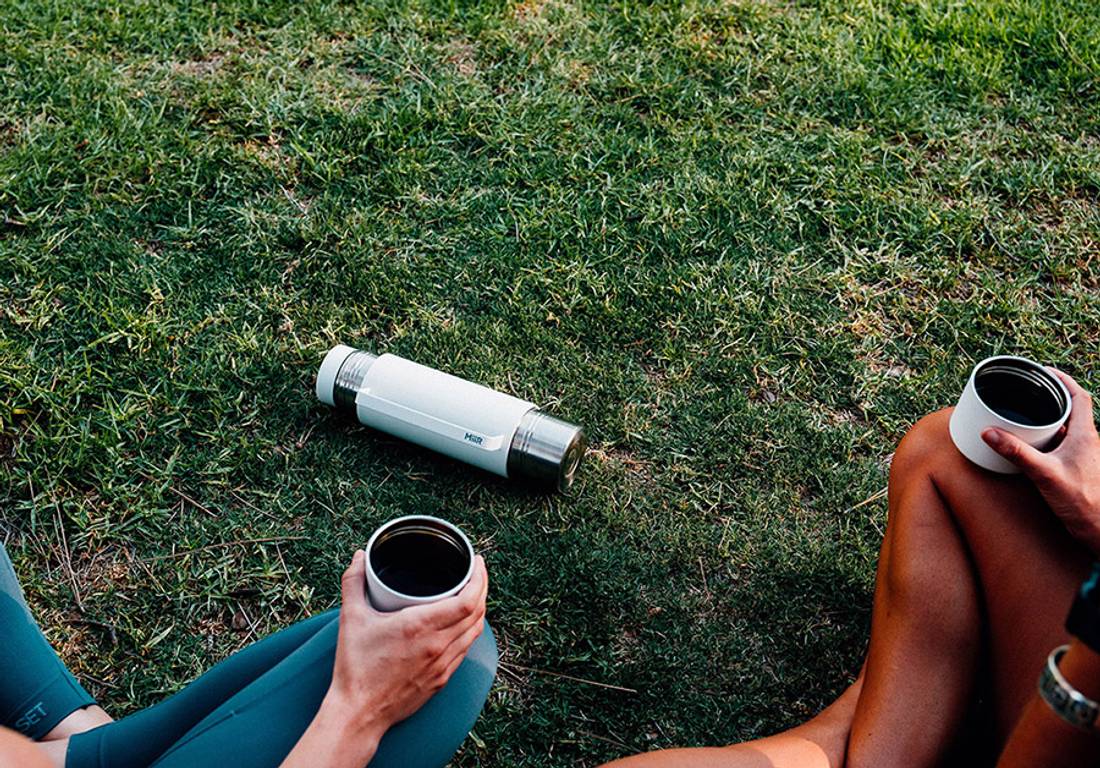 Design Forward
Roll-stop handle for easy pouring and comfortable carrying. BPS free.
Generosity Driven
Every MiiR product sold helps fund nonprofit organizations that work to empower communities, while investing in the health of our natural environments.
Customer Reviews
Write a Review
Ask a Question
Filter Reviews:
Cups
MiiR
Thermos
products
fact
surface
coffee
advantage
bottom
delivery
Tif

United States
01/15/2023
Amazing
After receiving the Tomo, I put it to immediate and repeated use and I've discovered that it's pretty amazing. 1. The size (33oz) is perfect for me personally. Not too little, not too much. Not too heavy, either. 2. Like the other insulated products it keeps your beverage hot for a very long time. I've put hot tea in it the evening before an overnight trip and still had piping hot tea the next morning. Fantastic. 3. I'm used to the old-school collapsible thermos handles so I worried that I wouldn't like the solid "roll stop" handle on this. I love it. It's not huge so isn't obtrusive. But it does indeed stop the Tomo from rolling and provides a wonderful, comfortable carry handle that doesn't have any moving parts to clink around. 4. I love the 360 Lid (and have bought one for my MiiR wide mouth bottle as well). So easy to use and truly does not leak unless there's just a bit of beverage that didn't get sipped up completely. I've noticed a bit of a suction effect at times when trying to pop open the lid shortly after putting steaming hot beverage in it and ******** it on, but this isn't an issue. It just kind of made me jump the first time it happened. :) 5. The two 8oz cups are GREAT!! I particularly like the fact that the "lip" on these is rounded, so you're not putting your lips on a thin/sharper metal edge. It's actually really nice to drink from. My only wish for these cups--and it's probably ridiculous--would be to have some kind of lid to help keep the heat in longer. I'm not sure how that would work, but for now I'm solving the "my hot tea gets cold too fast in these" issue by just pouring very small amounts into the cup at a time. Which is really easy to do with the Tomo's 360 lid. Also, at least on mine: if you mix up top and bottom cups when you screw them back on (the QR code is on the bottom), the top cup has a very slightly rounded bottom that makes the Tomo wobble when standing upright on a surface. The bottom cup is flatter and when ******* back on in the bottom position does not give any wobble to the Tomo. Made that way, or just a weird thing with the one I have? Don't know but I just pay closer attention when putting the cups back on the Tomo. No big deal. 6. The custom etching is beautiful. It's a small thing, one that I might not have ordered until I saw the holiday "free etching" deal. I'm glad I took advantage of that. I also ordered a wide mouth with etching for a friend, and she loves it too. I would love a few more options for available art, or the ability to upload a personal logo without having to order bulk. Overall, I would have loved more color choices on the Tomo. And some kind of lids for the 8oz cups, even if they were sold separately or as add-ons. But as-is, this is an amazing thermos that I very highly recommend and give an enthusiastic 5 stars.
Anonymous

United States
11/10/2022
Good quality, value for loney
Thank you for the delivery. Good quality product. Keep my food and soup warm and fresh. The design is timeless. It is value the money. I have been a fan of MIIR products, and this is one of the best product again. I am loving it so much, I am using it everyday.
Penny R.

New Zealand
08/30/2022
Tomo
Works just as I had hoped. I really like the 2 cups attached, as including a second cup when on a picnik or camping was a nuisance, having it all together in one flask is brilliant! Well done guys
Jason F.

United States
05/27/2022
Fantastic Coffee Thermos
I drink a lot of coffee and was originally using the MiiR 64oz to take with me to work but then they came out with this and it's WAYYY better and easier to travel with in my work bag without fear the top will pop off.
Shelley H.

United States
04/27/2022